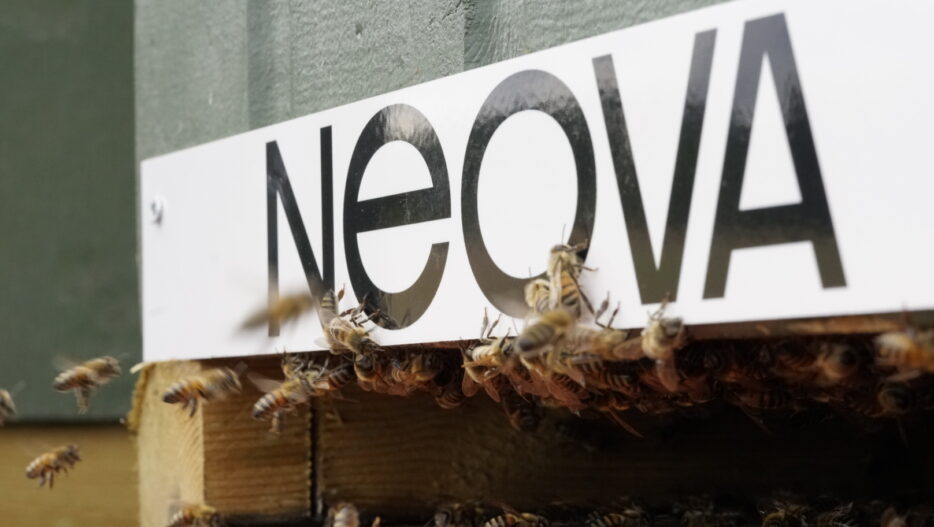 Neova teams up with bees to support biodiversity
Last July, in accordance with our sustainability programme, we expanded our efforts to support biodiversity by acquiring four beehives that were placed on the roof top of our office in Tikkurila, Vantaa. We found a suitable spot for the hives right by the green roof. The hives are located on their own deck, where they can be easily maintained. The hives are visible from the northern end of the office.
The number of insect pollinators has dramatically decreased all around the world. The disappearance of pollinators is a matter of urgency, not just from the perspective of nature but also from the point of view of humanity, given that 80% of our crops rely on insects for pollination. The reasons behind the reduced number of these insects include the destruction of habitats, use of insecticides, foreign species and climate change.
One beehive offers the environment around 50,000 pollinators. In favourable conditions, our four hives with their 200,000 Western honey bees will help pollinate millions of inflorescences a day. One hive produces between 66 lb. and 110 lb. of honey a year.
The beehives were supplied by Korpikuusikko Honey Ltd, who will also maintain them on a turnkey basis. Korpikuusikko Honey Ltd, located in Jokioinen, is a company specialised in beekeeping.
"Acquiring these beehives is a concrete way to do something good for the environment, and to support biodiversity. Our target is to bring the living environment of people and that of pollinators closer together", says Teemu Aittamaa, a beekeeper at Korpikuusikko Honey.
Wild species are the group of insects that do most of the pollination, but managed colonies of bees also have a great regional and symbolic significance in the process.
"I have been asked if the different pollinator species fight against each other. Mining bees, bumblebees, flower flies … all have their own colonies and living habits and their actions in fact complement each other. Even though pollinators are in greater distress in the countryside, these problems are solved in cities. Having your own beehives will help keep this important matter in the public eye", Teemu adds.
At Neova, we have made it our target to find new ways to promote biodiversity on many different fronts.
"The target of our biodiversity programme is to promote biodiversity with concrete actions, such as restoring old production areas back to wetlands, creating nesting places suitable for birds in our peat production areas, and reforesting former production areas. When we discovered that bees live comfortably and thrive also in a city environment like Tikkurila, we felt it was a natural step for us to join this project and do our own little bit here", summarises Petri Järvinen, Chief Supply Chain and Sustainability Officer at Neova.