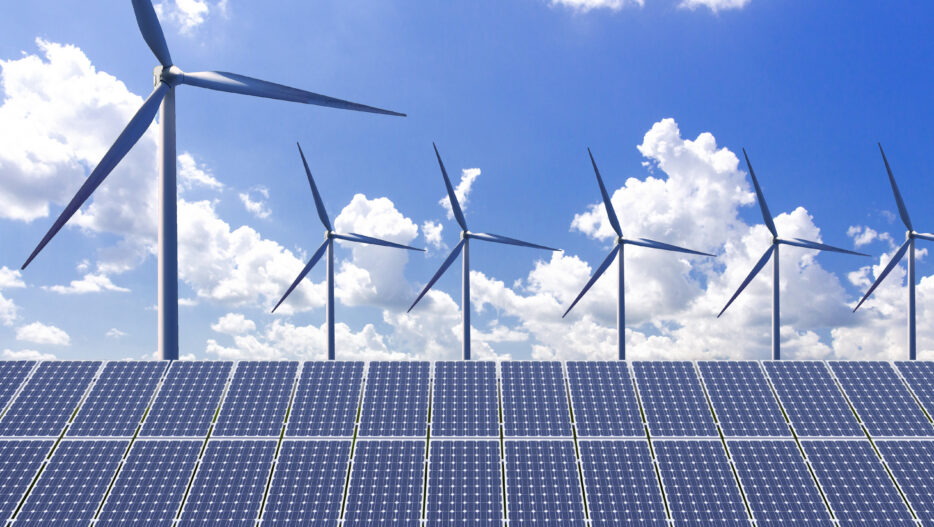 Neova believes in combining wind and solar power: The potential of thousands of hectares of peat production areas to build solar parks
Neova Oy has started several wind and solar power development projects in the areas it owns that are discontinuing peat production in different parts of Finland. The aim is to quickly move peat production areas which will no longer be used to the next form of land use, reduce soil emissions and simultaneously improve the self-sufficiency of Finland's electricity production by producing renewable energy.
Neova is currently actively developing seven wind power sites with a total nominal output of approximately 1,000 megawatts of wind power. "This is a significant amount of new wind power, as the wind farms currently built and operating in Finland have a nominal output of about 3,600 megawatts," says Lauri Alanen, the head of wind and solar power development at Neova.
"In 2020, Neova started to identify potential wind power sites on its lands. The survey identified a number of suitable wind power sites and finally the actual wind power project development was launched. The planning procedure for wind power projects is currently under way in Karstula in Central Finland, Pyhäntä in North Ostrobothnia and Halsua and Kokkola in Central Ostrobothnia. In addition, there are a few other projects planned that have not yet reached the zoning stage," says Alanen.
Opportunities for utility-scale projects in solar energy
The potential of solar energy has also been increasingly explored in Neova. Very recently, Finland has shown considerable interest in industrial-scale solar energy projects. Many of Neova's wind power projects are hybrid projects that aim to implement both wind and solar power.
Achieving self-sufficiency in electricity production in Finland has been highlighted, especially in the context of the war of aggression against Ukraine. This has further increased the need for low-cost renewable electricity production that can be built quickly, such as wind power and especially solar power. Neova's approximately 60,000 hectares of real estate in Finland enables the planning of large projects.
"According to the surveys carried out by Neova, there are more than 10,000 hectares of potential solar power sites on the company's own land. Some of these areas are likely to be discarded, but this is still a very significant number of potential solar power areas, amounting to several thousand megawatts of electrical power. It is calculated that around 5,500 MW of solar power could be built in an area of 10,000 hectares, generating roughly around 5,500 GWh of electricity per year. This amount would cover the combined annual electricity demand of Jyväskylä and Vantaa," says Pasi Koivisto, Neova's Director of Real Estate Development.
"Wind and solar power support each other very well, as their electricity production takes place largely at different times. The electricity transmission connections can be used more efficiently and electricity production will be more even when both forms of production are used. Neova also plans to develop several separate solar power parks, with sizes ranging from about ten hectares to hundreds of hectares," says Lauri Alanen.
"Such large-scale solar power projects have not yet been built in Finland, but some of the project developers have already made project plans and started the permit procedures. It is certainly only a matter of time before the first construction decisions are announced. Our first sites to apply for permits will be decided during this summer," Alanen estimates.
Old peat production areas are well-suited for wind and solar power
The demand for energy peat has fallen sharply in recent years, which will lead to the closure of many peat production areas in the coming years. Neova is committed to converting the decommissioned land for subsequent land uses within two years of the discontinuation of production.
"In the coming years, many of our old peat production sites will be freed up for the next form of land use, such as wind and solar power. Our projects utilise peat production areas and their nearby environments which have been found to be suitable for wind power construction. Although Neova's own land is the starting point for the projects, many sites also have a significant number of properties rented from other landowners," says Koivisto.
"Wind and solar energy are excellent for many old peat production areas, as they are often far from populated areas and already have a good road network. The sites are also areas of modified land use, which means that the environmental impacts of construction are smaller than when implementing a similar project on forest land alone. In principle, the old peat production areas are very good areas for building solar power, since they are large, open and flat areas," says Alanen.
Neova is responsible for the project development of its own wind and solar power projects. Neova will have the necessary surveys conducted and the planning and permit procedures completed until all the permits from the authorities have been obtained so that the construction of the projects can be started. Prior to the start of construction, project-specific decisions will be made on whether Neova will be involved in construction and electricity production or whether an external contractor will be found for the project.
Further information:
Lauri Alanen, Program Manager, Wind and Solar Power Development, Neova, tel. 050 379 3578
Pasi Koivisto, Director, Fuels and Real Estate Development, Neova, tel. 040 848 6541
Neova is an international company, with a strategy of satisfying people's essential needs for clean food, air and water. We promote professional growing and home gardening, the construction of attractive and pleasant living environments and the well-being of animals. We provide our customers local fuels and produce activated carbon for air and water purification.