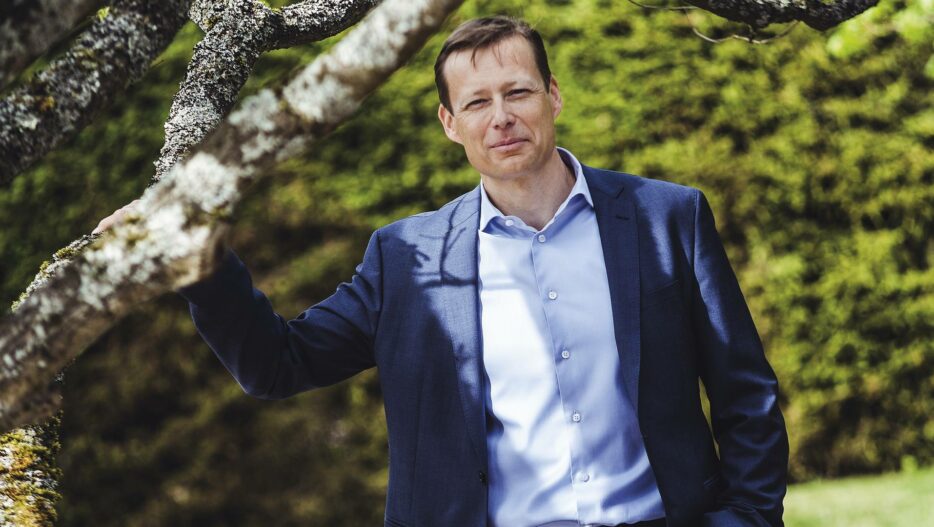 Vapo became Neova – what does this mean and why is the change topical right now?
The world changed, and so did Vapo. Vapo is now called Neova and 85% of its turnover comes from horticulture and landscaping sector, renewable fuels and animal bedding. The highlights and recording of the launching event, which gathered a record-breaking audience, are provided in this article.
According to Neova's CEO Vesa Tempakka, Vapo has been a good customer brand but, over the years, its profile has become strongly associated with the energy business and the production of energy peat in particular. When Vapo sold its energy company Nevel at the start of the year, it became topical to change the Group's name to better correspond to the business.
The purpose of the name Neova is to communicate the rapid structural change that has taken place over the past three years.
"We are no longer the energy company we were just three years ago. We are now something completely different and new. We are primarily an international producer of horticulture products and activated carbon for air and water purification," Tempakka concludes.
While the energy business continues, the emphasis will now be on renewable energies. Neova now focuses on green growth. This does not refer only to the gardening business, but covers also the purification of air and water as well as the promotion of circular economy.
"We are now looking forward and fully implementing our new strategy for responsible growth and a significant increase in ownership over the coming years. We bring our expertise to those pioneering companies that genuinely want to solve the biggest problems of humanity and the planet," says Tempakka.
Watch a recording of the launching event with the record-breaking audience (only available in Finnish).
Neova news and projects
In September last year, Vapo introduced the most modern activated carbon production facility in Europe, which will be completed in Ilomantsi, to the public. What stage has been reached in Novactor's first activated carbon production facility?
"The facility has been mechanically completed. At the moment, we are conducting commissioning and final tests at Novactor's plant in Ilomantsi," says Jaakko Myllymäki, Business Area Director, Novactor.
The expansion of the Ilomantsi facility is already planned and new plants are on the drawing table, both in Finland and in the surrounding areas. However, no decisions have yet been made as to where and when the next unit will be built. The market for activated carbons is growing rapidly and Neova's activated carbon brand Novactor aims to be the leading operator in the field.
Neova has also launched its first wind farm projects this year.
"We own a large number of areas suitable for wind power production. The areas are former peat production areas or other locations where there are no obstacles to wind power planning and licensing," says Lauri Alanen, Project Manager, Neova.
Neova Ventures is the Group's R&D unit that seeks radical innovations to boost new growth and find new markets. The world's cultivated area is declining due to urbanisation and, at the same time, the population is growing rapidly. In future, smaller areas will have to provide higher yields. One example of Neova Ventures' innovations is biostimulants.
"Biostimulants are an excellent response to these global food production challenges. By selectively and responsibly utilising Finnish biomass and other natural materials, we can bring cleaner alternatives, which are more bioactive and organic, to the market to ensure food production," says Mia Suominen, Business Area Director, Neova Ventures.
Gardening boom boosting the business
The pandemic has changed the world. Many sectors have suffered, but the gardening sector is now growing at an unprecedented rate. Spending time at home and eating local food are big trends and plantscaping is a popular leisure activity.
"The demand for horticultural products has increased and sales have risen nicely, we are talking about approximately 30% growth in all markets," says Tiia Kujanpää, Business Director, Kekkilä-BVB.
Kekkilä-BVB, which is part of the Neova Group, is the leading company in the market for professional growers and home gardeners. However, only one third of Kekkilä-BVB's turnover can be attributed to home gardeners, while two thirds of the turnover come from professional cultivation and landscaping.
"Annually, Neova Group's growing media cultivates more than one plant for every person on the planet. This is what it means to be the largest in Europe," explains Kujanpää.