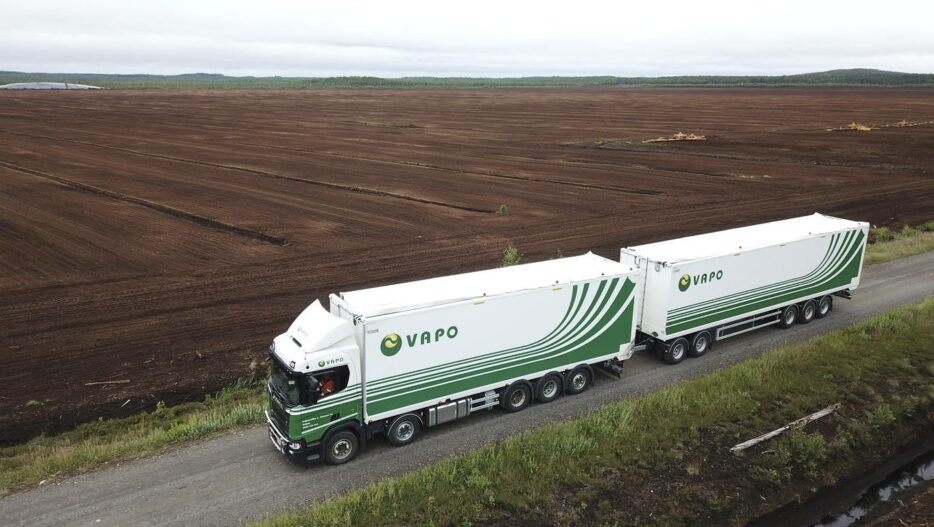 The accelerating decline in the demand for energy peat will lead to write-downs amounting to approximately 40 million euros in Vapo Group
In 2018, Vapo delivered approximately 9 million cubic metres (about 9 TWh) of milled energy peat to customers in Finland. According to the company's own forecast, the demand for milled peat will decline to half of that figure by 2025. The company is preparing for the decline in demand by discontinuing energy peat production at more than 70 production sites in Finland. In spite of the growing demand for agricultural peat, bedding peat and new uses for peat, the overall demand for peat is declining, which is why the company will recognise tens of millions of euros in write-downs in its financial statements for the current financial year.  The operating result for the current 8-month financial year will show a significant loss due to the write-downs. The write-downs have no impact on cash flow.
Of the write-downs, EUR approximately 13 million is allocated to the production areas where production will be discontinued in Finland, and EUR approximately 17 million is written down on the peat substance of continuing production areas based on impairment testing. In addition to these write-downs, the company will recognise a write-down of EUR approximately 10 million primarily on the book values of energy infrastructure. The single most significant infrastructure write-down is due to the expiration of the Salo power plant's heating delivery agreement.
The price of emission rights has multiplied in less than two years
According to CEO Vesa Tempakka, the price of emission rights rising from less than EUR 10 per tonne of carbon to approximately EUR 25 per tonne of carbon has made energy peat substantially more expensive than wood chips, and this increase in price appears to be permanent, which will materially effect the demand for peat in the years to come. "We have previously stated that the use of energy peat will certainly decrease by half in Finland by 2030 under the current tax rates and prices of emission rights. This has also been set as a target for Finland's current government in the Government Programme. It now appears that the decline is twice as fast as anticipated.  The current price of emission rights, EUR 25, corresponds to the cost of just over EUR 8 in peat taxes per megawatt-hour, so it is significantly higher than the peat tax of EUR 3," Tempakka says.
According to Tempakka, peat, coal and wood chips were each used to produce over 15 TWh of heating in Finland last year. "It is already clear that wood chips sourced from Finland will not be sufficient to replace both peat and coal without causing major market disruptions. Even at the current tax rate and price of emission rights, peat is more expensive than both wood chips and commercial timber as a fuel for energy companies. If the phasing out of energy peat is accelerated further, for example, by increasing peat taxes or reducing tax credits for energy-intensive industries, this is likely to lead to the increased burning of wood that is suitable for higher value-added processing and an increase in wood imports. Both of these developments would reduce the competitiveness of the Finnish forest industry and their employment and tax impacts would be quite negative," Tempakka points out.
No need for new measures to reduce the use of peat
Vapo revised its strategy just over two years ago to reduce the company's dependence on the demand for energy peat. The company's strategy is to pursue growth in the growing media business and launch entirely new high value-added products based on peat as a raw material. The implementation of this strategy has progressed according to plan. Vapo Group subsidiary Kekkilä-BVB is now, following an acquisition carried out at the start of the year, the largest player in Europe in growing media targeted at professional growers, among other segments. Vapo is currently building its first factory to produce activated carbon from peat in Ilomantsi, and the company's heat and power business has been restructured to expedite growth in digital business and renewable fuels.
Energy peat currently represents about 20% of Vapo Oy's turnover, although its significance to the company's profit and cash flow is larger than that. "I am confident that Vapo Oy can successfully complete its transformation even on this accelerated schedule.  If the reduction in the use of peat is expedited by new tax policy decisions, it will have a significant impact especially on the price of wood and, consequently, on the district heating costs and costs in the forest industry.  The reduced use of peat has already had a negative impact on jobs in the peat industry and tax revenue in the municipalities where peat is produced. This negative development should not be accelerated further," Tempakka says.
"The use of energy peat will decline naturally and peat is certain to be primarily a fuel that ensures the security of supply in the 2030s, so there is no reason to accelerate the phasing out of peat, as the costs that would involve would outweigh the benefits," Tempakka concludes.
Further information:
Vesa Tempakka, CEO, Vapo Oy, tel. +358 400 726 727
Jarmo Santala, CFO, Vapo Oy, tel. +358 40 801 9191
Ahti Martikainen, Director, Communications and Public Relations, Vapo Oy, tel. +358 40 680 4723