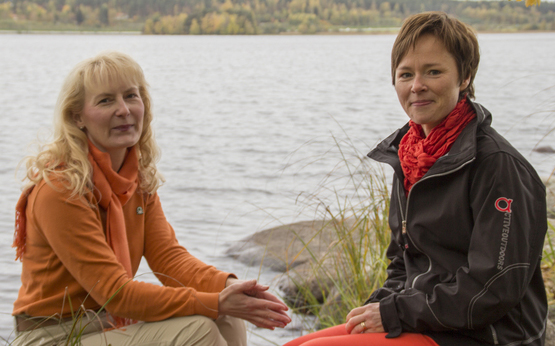 Vapo seeks growth through natural water treatment
Throughout its history, Vapo has designed and sub-designed, measured and sub-measured, and constructed and sub-constructed hundreds of natural water treatment systems. Over the years, Vapo has accumulated a measurement, analysis and research report database that is unparalleled in size. Could putting this expertise and data to use generate new business activities to solve natural water treatment needs beyond those of Vapo?
A small group of people within Vapo began to investigate the matter a little over a year ago. The working team's initial enthusiasm eventually spread to the company's steering committee and, finally, Vapo management. Environmental Director Mia Suominen, the mother of the idea, has been responsible for the project launch so far. When the board gave the green light last spring, the search for a project director and a modeller began. The recruitment ads were secretive to the point of attracting media interest. 'Who on earth is Vapo hiring now?' a regional paper wanted to know.
We can now disclose the purpose of the Vapo Clean Waters project. That purpose is to bring together all of Vapo's water treatment crew as well as some external experts to form a team. Our aim is to see how we can enhance and improve our expertise and operational methods in the field of water treatment and to test if that field can serve as a new area of business. "And to see if we can seize the opportunity of new business," says project coordinator Mia Suominen.
A new functional model
The first stage of the project involved finding a project leader. M.Sc. (Tech) Marika Ryyppö was recruited as project director from among dozens of applicants. Ryyppö transferred over to Vapo from Jyväskylä Innovation Ltd at the beginning of September. Ryyppö has extensive experience in implementing international energy projects. She has worked in different positions at Alstom, Fortum and Wärtsiläboth in Finland and abroad.
The task division between Environmental Director Suominen and Project Director Ryyppö is as clear as possible considering the novelty of the startup project. Mia Suominen is in charge of the Clean Waters project on the steering committee level and spurs the whole team on. To talk in sports terms, Marika Ryyppö serves as the captain of the ice hockey team and Mia Suominen is the head coach.
As this is being written, the final project team is taking form and Vapo is renovating a slightly out of the ordinary working facility for them. According to Suominen, all activities are aimed to generate a new functional method and positive startup spirit. Since we are in the process of creating something new, we have to rethink many aspects, including organisational structures and working methods. According to Suominen, the customer perspective and smooth services form key focal points.
The team required in order to pursue the project has begun to take shape. The team will be completed during the autumn, comprising the required expertise related to water treatment system design and development expertise, permission procedures, construction and hydrological impacts. In practice, the team members are primarily professionals who have, until now, been in charge of ensuring that Vapo's water treatment structures and hydrological impact monitoring systems in peat production areas comply with the permit requirements. According to Suominen, some of the team members will transfer to the team full‑time while some will provide part‑time input in the beginning. The team needed one more new player right at the beginning, a modeller.
What does a modeller do exactly? According to Suominen, Vapo is introducing and utilising modelling for the first time. Ph.D. Merja Pulkkanen was appointed as a environmental data modeller. Pulkkanen previously worked as a researcher at the Department of Biological and Environmental Science at the University of Jyväskylä. The modeller is in charge of collecting available data related to peat, water courses, soil and different forms of land use as well as other observations to serve as a basis for target‑specific and catchment area-level management planning. Modelling can help in the assessment of target loading and in selecting the optimal methods for each water treatment case in terms of effect and costs.
With modelling, we aim to utilise previously gathered data in solving problems. This is to avoid unnecessary mistakes and experiments before finding the right solution.
Could this be a growth area?
While Vapo CEO Tomi Yli-Kyyny, a member of the project steering group, is palpably excited about the project, he does not offer any estimates of future turnover or operational scope. "Vapo's long‑term goal is to generate competitive advantage based on the company's existing water treatment expertise and our databank. I hope to someday see us helping others solve their natural water treatment challenges."
But now is the time to create a new approach. This autumn's agenda includes finalising the project business plan, compiling the startup team required to take the next step and launching the functional model testing process. According to Yli-Kyyny, the first project stage involves the team developing Vapo's water treatment processes while pursuing growth through serving new, external costumers. He elaborated on the project goals: "I would like to see this project help us make progress in the field of clean natural waters, an important field to us. I would be particularly happy to see the first fully external orders come in next year."
More information:

– CEO Tomi Yli-Kyyny, Vapo Oy, tel. +358 20 790 5605
– Environmental Director Mia Suominen, Vapo Oy, tel. +358 20 790 5653