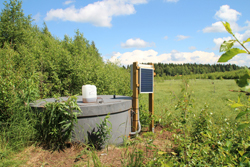 Vapo to acquire a continuous water-quality measuring service from Metso
Vapo, a key actor in Finnish energy generation is continuing its investment in the transparent monitoring of the effects of peat production on bodies of water. Vapo has ordered a service from Metso which includes 30 continuously-operating water-quality measuring stations, the service and maintenance of the measuring stations, and certified measurement results. The first five measuring stations are to be installed and calibrated during this coming summer in production areas located in Alajärvi, Ähtäri, Kitee, Taipalsaari, and Tammela. All 30 continuously-operating measuring stations will be in use by the summer of 2015.
"Vapo's aim is to take environmental responsibility to a level which is clearly higher than that stipulated by legal requirements. Metso's service package provides us with a more comprehensive, transparent, and real-time solution for parallel use with the monitoring method used currently, which is based on manual sampling. In addition, it supports our previous commitment of including all peatlands in our emissions monitoring," says Pasi Koivisto, Business Area Director, Vapo Peat Products.
Koivisto says that Metso's reputation as a reliable and impartial operator, and its environmental reporting references were the key factors when Vapo made the decision to outsource its water-quality measuring to Metso Automation.
"Metso took complete responsibility for the the service. Metso was also prepared to invest in necessary resources for fast delivery of monitoring and reporting system. This is first nationwide system in Finland functioning in the natural conditions.
The service also includes the public reporting of measurement data," Koivisto says.
The continuous measuring stations will be located in different areas of Finland, in peat-production areas of different ages and sizes, in order to acquire as comprehensive and transparent real-time data as possible to compare with the monitoring data obtained with the manual sampling method used currently. In addition to flow, the measuring stations will also provide data on the concentrations and load of suspended solids and dissolved organic carbon (DOC), chemical oxygen demand (COD,), and total organic carbon (TOC) in the water.
Director Jyri Tiihonen from Metso says that the service, which was developed in co-operation with Vapo, utilizes Metso's extensive experience in the monitoring and reporting of flue gas emissions into air from power plants. "Now we are going to do the same thing in the natural conditions.
Continuous measurement in nature conditions is a new development area for us and it has many other potential applications for example in mining industry.
According to Mikko Keto, President of the Services business line at Metso Automation, Metso has plenty of know-how in sustainable technologies that customers can use to improve their best practices in order to promote their business operations while respecting environmental values.
"Water is a critical natural resource all over the world, and water management and control related business is one of the key development areas in Metso.
The continuous measuring service to be delivered to Vapo provides new and more detailed data on the environmental effects of peat production for both Vapo as well as for the public. The service enables Vapo to develop its peat production in an even more responsible manner.''
For additional information, please contact:
Pasi Koivisto, Business Area Director, Vapo Peat Products, tel +358 40 848 6541
Tiina Stenvik, Senior Manager,Sales & Product Management, Automation, Metso, tel +358 40 821 688