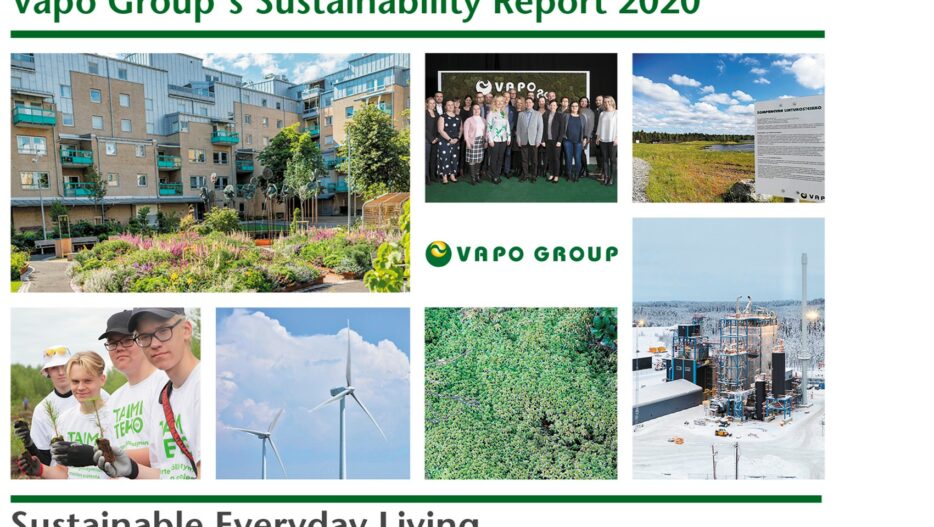 Vapo Group's Sustainability Report 2020 has been published – the Group's carbon dioxide emissions decreased by nearly 20% in one year
The aim of sustainability work is the continuous improvement in the various areas of sustainability and ultimately making Vapo Group a net positive company. Net positivity refers to the positive and negative impacts of operations, products and services on the environment, wellbeing, society and the knowledge.
In 2019, Vapo Group updated its sustainability strategy, with taking care of the environment and taking care of the wellbeing of our employees highlighted as the key focus areas. The sustainability priorities and actions have been defined in accordance with the special characteristics of each business and linked to the UN Sustainable Development Goals.
According to the materiality analysis conducted in late 2019, the Group's stakeholders consider the following to be its key sustainability themes:
The transition towards a carbon-neutral society
Developing sustainable and responsible peat production methods and the restoration of peatlands
Supporting biodiversity and the sustainable use of natural resources
Minimising impacts on watercourses and increasing the efficiency of water use
Sustainability targets progressed during the year
Good progress was made towards several of the Group's sustainability targets in 2020.
The target for the reduction of CO2 emissions is to halve the emissions in Finland by 2025, using 2018 as the baseline. Significant progress was made towards this target by decreasing
Vapo Group's carbon dioxide emissions by 18% in 2020, compared to 2018. In 2020, CO2 emissions amounted to 0.83 million tonnes CO2. Most of Vapo Group's CO2 emissions arise from its operations in Finland.
Enhancing biodiversity and carbon sinks is part of Vapo Group's sustainability work. Some 754 hectares of land owned by Vapo Oy and removed from production was reforested in 2020, while 402 hectares were converted into wetlands. In 2020, Vapo decided to discontinue the production of energy peat at 123 production sites. We sold 1,063 hectares of peatlands of significant nature value to the Finnish State for conservation purposes.
During the period 2008–2020, Vapo's impact on watercourses has been reduced by 68% with regard to solid matter, 56% for nitrogen and 63% for phosphorus. The target is to reduce these impacts by 75% by 2025, using 2008 as the baseline.
Based on the Great Place to Work survey, Vapo Group's Trust Index – which is a measure of the employee experience – was 68% in 2020, representing an increase of five percentage points compared to 2019. Our target is to achieve an annual increase of three percentage points, which would put us in the top 25% of European workplaces in the Great Place to Work survey by 2030.
In 2020, Vapo Group's accident frequency (lost-time accidents per million working hours) was 7.2, representing a slight increase compared to the previous year. The year-on-year increase was 7%. However, a significant improvement in accident frequency was achieved in the Netherlands, where the accident frequency decreased by 40%. Our target is to reduce accidents by 25% per year.
The report for 2020 covers Nevel's sustainability activities for the last time. The sale of Nevel to Ardian was finalised on 28 January 2021.
"We are very proud of the progress of our sustainability work in both of our focus areas: we take care of the environment and we take care of well-being of our employees. Our work is meaningful and this is reflected in our employees' commitment to our sustainability efforts. I also strongly believe that our systematic and goal-driven promotion of sustainability represents a good response to our stakeholders' expectations. And finally my thanks goes to all our employees in taking care of the health and safety during this very special pandemic year of 2020," says Petri Järvinen, Chief Supply Chain and Sustainability Officer, Vapo Group.
The Sustainability Report is available online at:
www.neova-group.com/en/sustainability
Further information:
Petri Järvinen, Chief Supply Chain and Sustainability Officer, Vapo Group, tel. +358 50 482 4071, petri.jarvinen@vapo.fi