The ten years Jussi Kankainen has spent building his career at the Vapo Group have taken Jussi through a diverse path from one business and duty to another. The journey has enabled Jussi to advance to a supervisory role and achieve extensive competence in many different sectors. This man who lately moved from Tampere to Ylöjärvi has not been intimidated by the rapid changes. He considers himself a bit of an extreme-type person who gets pumped up by new challenges and self-development.
Vapo Group's extensive job opportunities were a surprise
Jussi's career path at the Vapo Group started in 2010 in wood energy procurement and delivery soon after graduating as a forestry engineer. The opportunity to join the forefront in developing the fuel wood business, was an extremely interesting career challenge for a young guy who had just graduated, he reminisces.
Jussi has a passion to strive forward in life. He doesn't rush things, however, and prefers to take control of one thing at a time in the most versatile manner as possible. In addition to forestry industry, in the Vapo Group he has had an opportunity to learn about peat production, litter market, recycling business operations and soil production. Jussi describes Vapo as a hidden treasure due to its diversified job opportunities.
His job description changed significantly in 2013 as Jussi became a supervisor for the management of peat and wood order and supply chain in Southwest Finland. The beginning was not easy, and he faced the brutality of the supervisory work very quickly. Working as a supply chain manager was comprehensive, and it was a good vantage position in production and supply chain and logistics of raw materials. It provided a solid basis for his future tasks. Jussi has particularly warm memories of the exceptionally strong community spirit that prevailed among the Vapo employees in the area. Some of the former team members still work in the same office in Tampere with Jussi. The job as a supply chain manager also came with an interesting pilot trial that had never been done before at Vapo.
"An experience that was unforgettable and widened my own perception was a work exchange with a colleague of mine, where I moved to Kainuu for a couple of months to perform his duties and vice versa. It allowed me to challenge myself again", he says.​​​​​​​
Towards the new
Vapo's new strategy and organisational change in 2018 provided Jussi with new opportunities to advance in his career, and he became a business manager at Kekkilä. Now, Jussi is responsible for the landscaping and recycling business in Finland. The circular economy and Vapo Group's goal of "Sustainable Everyday Living" are strongly emphasised in Jussi's work. His team is responsible for example for four composting plants that process 90,000 tonnes of organic waste annually. These are refined to soil-conditioning compost that is used as raw material for soil in Kekkilä's 15 soil stations.
​​​​​​​"At the moment, my job also includes the role of the vice chairman of the Finnish Biocycle and Biogas Association, where I can learn about the industry's current events and make an impact in this rapidly changing field."
"Vapo has evolved remarkably in ten years with the development of new business operations. I have been lucky to have been able to see the wide variety of functions. I am more able to understand and develop the Group's internal cooperation opportunities that should be utilised much more", Jussi states.
On the road to leadership
Jussi's main career objective has been to learn about leadership skills. According to Jussi, leadership is not a value in itself, but it is the task of the leader to enable the success of the team and the individual. Jussi considers his strengths to be curiosity and a general understanding from multiple perspectives. He also seeks to constantly challenge his own way of thinking. He always considers change as a positive thing that enables to rethink the big picture.
"Throughout my journey to become a supervisor, I have received a lot of support in many different ways. Vapo has offered me a lot of supervisor training. I am very grateful to all of my seven supervisors for their trust in me and trusting me with, sometimes very time sensitive, challenges. I also use what I've learned from them in my own leadership."
Jussi has been work-oriented, and work has always been important to him. He has been very strict on himself. Now that he is older, he has become more gracious to himself and found a balance between work and free time. Jussi's essence exudes positivity and security. He considers trust as an important value at work.​​​​​​​
"I believe that "Trust through respect" value is our most important value. Without trust and respect, we cannot build a strong cooperation between customers or colleagues. On the other hand, if there is no trust and courage, you cannot advance in your career", says Jussi.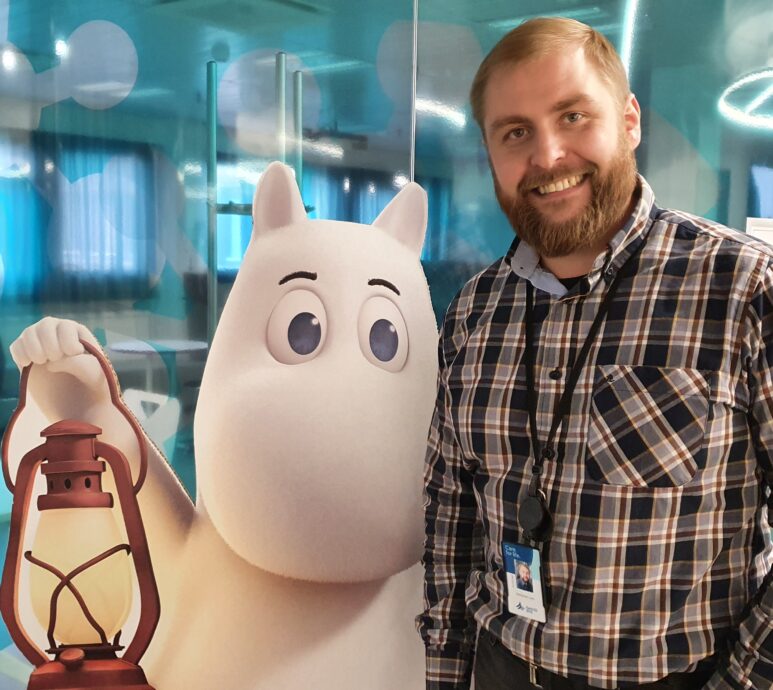 Jussi Kankainen
Jussi Kankainen is a responsible fisherman and foodie whose specialty is a heavenly korma curry. He possesses a strong work motivation and is passionate about challenging and developing himself. His target is to make it possible for individuals and teams to succeed. He wants to see and experience as many different things as possible. For Jussi, who chooses to live a very active lifestyle, hobbies involving the forest and nature are his lifeline. Once a year, he go to a hunger camp with a friend where they can get food only by hunting, fishing and gathering. In his life, he wishes to spread positivity and goodness all around him.
Key career lessons
Change is an opportunity and it should always be fully utilised.
Management is not a value in itself, but it is the task of the supervisor to enable the success of the team and the individual.
You'll learn to be less judgemental of yourself sooner or later.
See our open positions